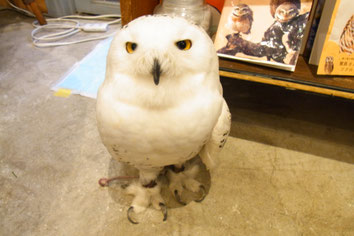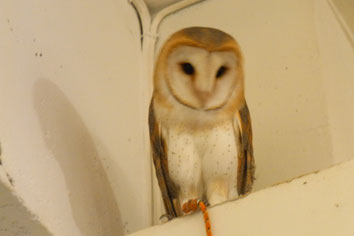 An animal cafe in Shibuya
where you can get up close with owls
Owls have come to roost in Shibuya!
If you're looking for an animal cafe in Shibuya, look no further than cafe HOOT HOOT, an owl cafe tucked away along Ura-Shibuya Dori,
just a 10-minute walk from Shibuya Station. Enjoy a delicious cup of tea or alcoholic beverage in the relaxing company of some adorable, friendly owls.
Our cafe is open until 11 p.m., so you can also drop by on your way home from work or shopping.
Enjoy learning about how to raise owls, the types of owls, and more!
A cafe and bar where you can get up close with owls
We provide a comfortable, relaxing space in a homey atmosphere so you can have a seat in one of our sofa-chairs,
unwind, and enjoy your stay to its fullest. Our cafe has permission to sell alcoholic beverages, so we serve authentic cafe beverages.
Our owls are friendly and have been raised with humans since birth.
Snowy owl / Tawny owl / Barn owl (2) / Mottled owl / Turkmenian eagle-owl / Eurasian eagle-owl
We treat our friends the owls as people-and they don't seem to realize they're owls, either! You just might become friends with our adorable owls too in this marvelous place.
Play with seven adorable, very friendly owls in six varieties in our relaxing cafe, savor a nice, leisurely cup of tea or sake, and enjoy your stay in our homey atmosphere.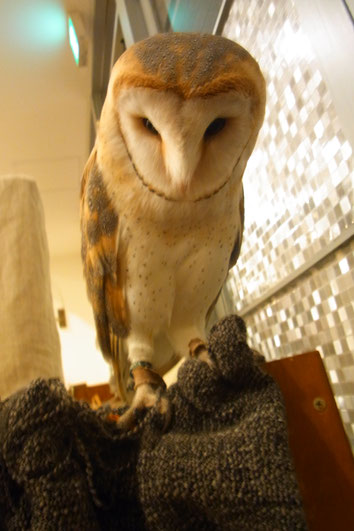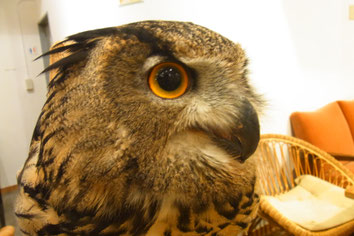 Want to take a photo with one of our owls? No problem!
Our staff will provide a thorough explanation of how to handle our owls, so even if it's your first visit to our cafe, you can feel at ease.
We also provide careful and friendly discussions of our owls, including the types of owls, their price, how they are raised, and more.
If you're thinking about keeping an owl as a pet in your home, please stop by and have a chat with us first. 
Have a cup of our carefully-prepared drip coffee or one of our other beverages while you spend a relaxing time with our owls. 
We also serve alcoholic beverages.
We don't require reservations. Feel free to stop by without one! (Customers with reservations will take priority.)
If you don't have a reservation, please aware that there are occasions where we close earlier than usual, since we do need to take the owls' physical condition into consideration, so make a reservation if you can. You can make reservations on the day of your visit, right before you drop by-feel free to contact us!
You can make a reservation up to five minutes before you come by.
If you're going to be early or late for your reservation by 15 minutes or more, please contact us. If you are over 15 minutes late for your reservation without contacting us, it may be treated as a cancellation, so please be sure to get in touch.
Like or follow us on Facebook
for a 500 yen discount on your next hour-long visit!
2500 yen » 2000 yen
Please show the Facebook follow screen to our staff.
A 10-minute walk from Shibuya Station
A two-minute walk from Shinsen Station
Hours of operation
Weekdays: 3 p.m. to 11 p.m.
Sat., Sun., & hol.: 12 p.m. to 11 p.m.
Days regularly closed: none
Fees
30 min., 1 drink: 1,500 yen
1 hr., 1 drink: 2,500 yen
Every 10 min. thereafter: 500 yen
Children (elementary school and younger): half-price
Credit cards accepted
Owl House cafe HOOT HOOT
10-16 Shinsen-cho, Shibuya, Tokyo 150-0045
Rep.: Motohiro Mizuhara
Tel. 03-6778-2364
Email
Detailed map
First-Class Animal Handling Merchant Sign
Office name: Owl House Caf? HOOT HOOT
First-Class Animal Handling Industry Classification: Exhibition & Sales
Registration Number
15 Tokyo Metropolis Exhibition No. 004789
15 Tokyo Metropolis Sales No. 004789
Date of registration: August 20, 2015
Date of expiration: August 19, 2020
Person responsible for animal handling: Kyoko Mizuhara